If you have read my most recent posts regarding drum circles and the benefits of hand drumming then you may be wondering where to find your own drum. In today's post I would like to look at 3 of the best djembe drums available.However, before doing that we should learn a little about the drum itself.
If you have not read these articles  and would like to learn more you can check them out now by following the links.
What is a Djembe Drum?
The djembe drum is a very popular hand drum originating out of West Africa. According to the Bambara people of Mali the name originated from the the phrase Anke dje, anke be. In English this means "everyone gather together in peace." The Djembe drums body is made of carved hardwood and the head is made of untreated rawhide (Commonly goats skin).
The following video shows how the Djembe drum is made by drum makers in West Africa.
Getting your own Djembe Drum – The Best Choices
After watching the video above you are probably thinking that the best djembe drums are those that have been made by drum makers in West Africa. This is absolutely correct! There is no greater feeling then playing a djembe drum that has been hand crafted by a skilled drum maker. However, many manufacturers outside of West Africa have taken on the task of creating high quality djembe drums. Although these drums are not hand crafted in West Africa they do provide an authentic experience.
The following  Djembe drums are all made by reputable drum manufacturers who strive to create quality instruments that provide an authentic experience. These drums also feature the beautiful designs that are similar to those found on djembe drums from West Africa. The Manufactures that I will highlight are Meinl, Toca, and Remo.
Djembe drum made by Meinl
About Meinl
Meinl percussion, originating in Germany, is one of the top competitors with regards to ethnic percussion instruments. They currently have 8 lines of djembe drums but their African style drums are the most popular. The djembe drum I am featuring here is from the rope tuned wood djembes line which is their most popular overall line of djembes.
Product: Meinl African Djembe with Bag (Medium)
Manufacturer: Meinl
Price: $139.99 (USD)
About the Drum : The Meinl African Djembe is an african style rope tuned drum. The shell is carved from one piece of plantation grown mahogany wood. The rope tuning guarantees long lasting tuning. These drums include a carrying bag for storage and travel. The drum featured here is a medium drum but they also come in large and extra large. Please note that the larger sizes have different prices.
To learn more about the Meinl African Djembe with bag including customer reviews, dimensions and purchasing options simply click the picture above.  Here you will also find a large variety of other Meinl drums and percussion instruments.
Djembes made by Toca Percussion
Toca is also a leading manufacturer of djembe drums. These drums are manufactured in Indonesia. They carry two lines of Djembes which are African style djembes and PVC djembes with goatskin heads. There drums come in a variety of styles, designs and colors. The drum featured here is from the Toca Street Series.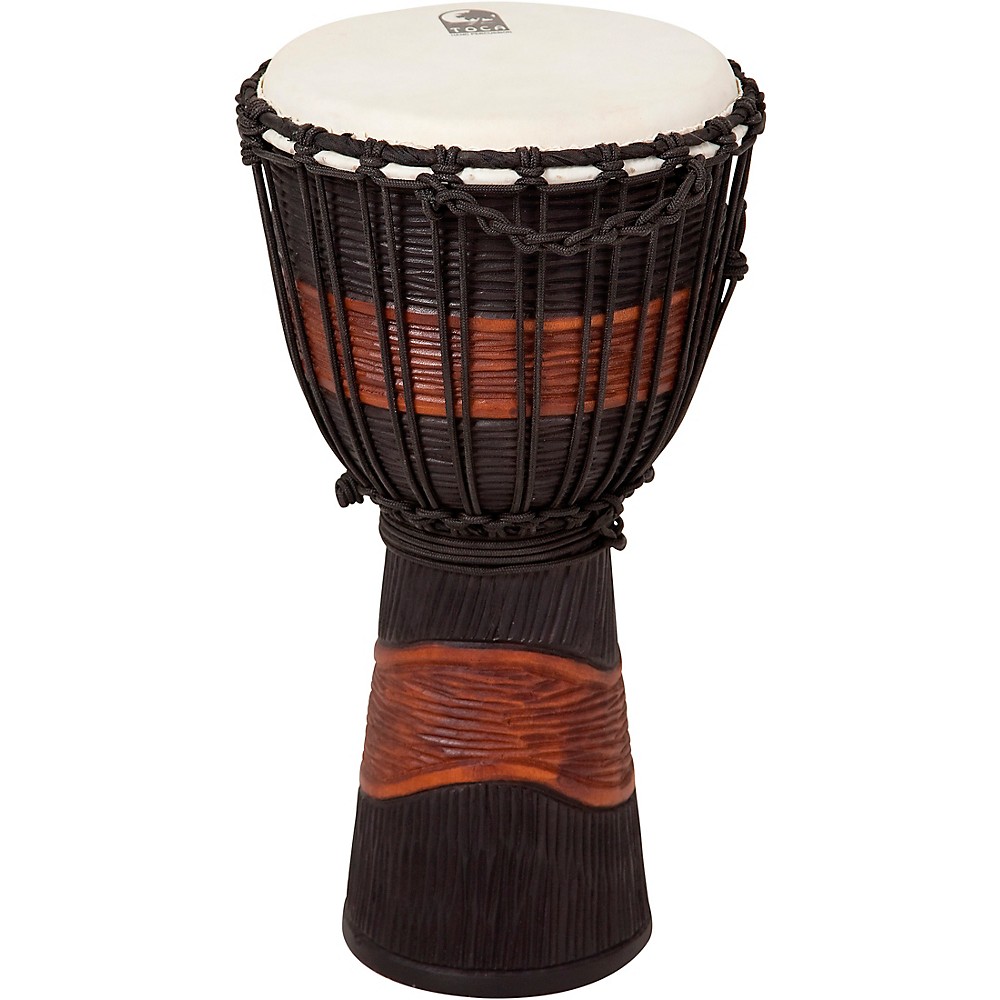 Product: Toca Street Series Djembe Large Black
Manufacturer: Toca
Price: $144.99 (USD)
About the Drum: This particular drum is a large djembe made from mahogany wood with a hand selected head. It is also available in small, medium and extra large. 
To learn more about this drum including customer reviews, dimensions and purchasing options click on the picture above.
Djembe Drums By Remo Percussion
Remo is best known for their synthetic drums. They are perhaps the most popular manufacturer of djembes. They carry a large variety of djembe drums which is divided into 5 lines. These lines are Key-Tuned Djembes, Festivel Series Djembes, Rope Tuned Djembes, Signature Series Djembes, and Floating Ring Djembes. All of these djembes have unique features. The djembe featured here is from the Festival Series.
Product: Remo DJFEMD-32 Designer Series 20 x 10 Inches Pre-Tuned Medium Festival Djembe, Green Kintekloth
Manufacturer: Remo
Price: $115.48
About the Drum:  This drum is a pre-tuned medium festival djembe. It features a designer series finish with a matching skyndeep drumhead.  It is also equipped with a nylon shoulder strap for easy transport.
To learn more about this drum or to see other drums that Remo has available simply click the photo above.
Final Thoughts
There is a wide variety of djembe drums available manufactured by many different companies. The djembe you choose will depend on the style, design and color you are looking for. If you are looking for the most authentic experience I recommend purchasing a wooden African style djembe such as the Meinl African Djembe featured in this article. However, all the djembes featured here are excellent choices. If you would like to see more Djembes available by these manufacturers simply click on the corrosponding image for each manufacturer. The best djembe drums are those made by African drum makers or by reputable companies such as the ones mentioned here.
If you have any questions, a suggestion regarding Djembe drums or have had an experience with these drums feel free to leave me a comment.